Post by Zig on Mar 21, 2016 7:32:33 GMT -5
Will the Yankees actually put CC Sabathia in the bullpen to start 2016?

By Mike Axisa | Baseball Writer
Most teams come to spring training with a few roster spots up for grabs, and the Yankees are no different. They opened camp this year with openings on their bench and in their bullpen. They're also trying to sort out their fifth starter's spot.
The Yankees are currently slated to start 2016 with Masahiro Tanaka, Michael Pineda, Nathan Eovaldi, and Luis Severino in their rotation in whatever order. The fifth spot comes down to CC Sabathia and Ivan Nova, neither of whom pitched all that well in 2015. Sabathia had a 4.73 ERA (83 ERA+) in 167 1/3 innings last year while Nova had a 5.07 ERA (78 ERA+) in 94 innings.
It's tough to believe Sabathia, the well-paid former ace, would not be given the No. 5 rotation spot over Nova, who has been quite inconsistent in his five years with New York. The Yankees insist this is a true competition, however, and the best man will get the job. Here's what GM Brian Cashman told the YES Network during Saturday's rain delay (video link):
"Obviously Nova last year came back from Tommy John, so we didn't really have a good shot at seeing what really he can be again, so this spring is going to be a good indicator in his case. With CC's case, he had a full season last year, and obviously this spring. It's a pure competition and whoever is going to be the best wins it. They're going to declare it themselves. We'll gravitate to that. We're true to our word. Whoever is going to give us the best chance to win every five days. I just hope when the dust settles, that the decision is not made for us by somebody getting hurt out of the six guys. That very well could happen at some point but we hope that's not the case."
Manager Joe Girardi has said the same since the first day of spring training. The fifth starter spot is going to go to whoever gives the team the best chance to win during the regular season. Based on last year's results, that's Sabathia. Based on spring training, it's Nova. Here are their Grapefruit League numbers so far (graphic via YES Network on MLB.tv):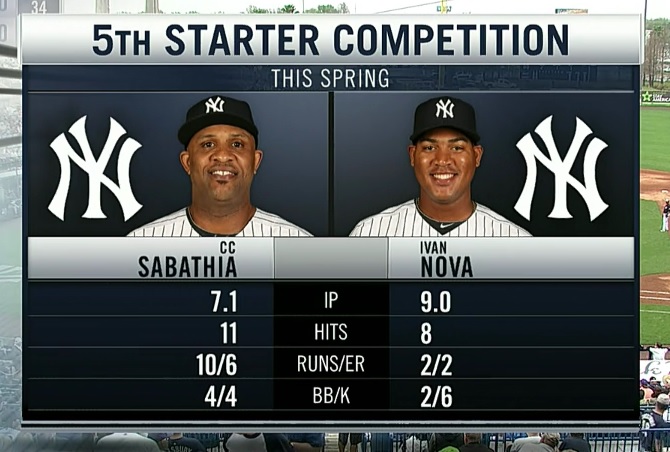 Nova has pitched much better so far this spring and he is further away from Tommy John surgery, and it's not unusual for pitchers to need some extra time to get all the way back following elbow reconstruction. He had a 3.10 ERA (129 ERA+) in 139 1/3 in 2013, his last healthy season before blowing out his elbow in April 2014.
Sabathia, meanwhile, is in the twilight of his career. He had a 4.73 ERA (83 ERA+) in 167 1/3 innings in 2015, and has a 4.81 ERA (82 ERA+) in 424 1/3 innings from 2013-15. His right knee is a wreck -- Sabathia wears a brace during his starts because the knee is bone on bone -- and he'll be 36 in July. So yeah, Sabathia is nearing the end of the line.
In a vacuum, Nova would get the No. 5 spot because he's younger (29), healthier, and he appears to be better able to get hitters out at this point in time. This isn't a vacuum though. Sabathia has a huge contract (owed $25 million in 2015) and last season the Yankees did not move him to the bullpen even though he was not one of their five best starters. They instead moved Adam Warren to the bullpen when Nova returned from surgery.
What does ZiPS have to say about this? Here's what the projection system says for Nova and Sabathia heading into the 2016 season:
2016 ZIPS: CC SABATHIA & IVAN NOVA
IP ERA WHIP FIP K/9 BB/9 HR/9 WAR
Sabathia 124 2/3 4.98 1.39 4.54 7.5 2.7 1.4 +1.1
Nova 109 1/3 4.45 1.36 4.37 6.8 2.9 1.1 +1.1
I must point out projections are not predictions. They're an attempt to estimate a player's true talent level at this point in time. ZiPS, which is available at FanGraphs, thinks Nova is better pitcher in terms of limiting home runs and preventing runs in general. Sabathia has the edge in strikeout rate and that's about it. Everything else is pretty close or advantage Nova.
Again, this is another reason to give Nova the rotation spot over Sabathia. Even the totally objective computer algorithm believes the younger, healthier, and better this spring Nova should get the job over Sabathia. And yet, if the Yankees give the job to Nova, they'd be putting a $25 million pitcher in the bullpen, which is something no other team in history has ever done.
In all likelihood the Yankees will end up needing both Sabathia and Nova to make starts in 2016. No team gets through a season with only five starters these days. Nova appears to be the better fifth starter option right now, but Sabathia has his contract and his track record as a former Cy Young winner going for him, which complicates things.
The Yankees say they're going to take the best man for the job because every team says they're going to take the best man for the job in March. When push comes to shove, will they ignore Sabathia's salary and track record and go with Nova's potential? History, including New York's decision to keep Sabathia in the rotation over Warren in 2015, suggests no.